Winter Wrap Up is a song from season 1 of the series My Little Pony: Friendship is Magic. The winter wrap is a tradition in Ponville where everypony cleans up the snow and wakes up hybernating animals, but while pegasi are allowed to fly, unicorns aren't allowed to use their magic horns and clear the winter the earth pony way. It's sung by the pedestrians in Ponyville, with verses in between being sung by the Mane 6 (minus Pinkie Pie, who sings in the beggining.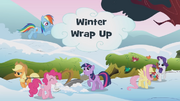 Twilight Sparkle also gets 2 verses, in the first one she's singing about not knowing how to fit in with the other unicorns and earth ponies, as she can't use her magic to clear the winter. In the second one, she expresses her determination and explains she's ready to join the winter wrap up.
Note: the choir voices aren't listed, only the mane 6 (ordered like so: Twilight Sparkle, Rainbow Dash, Pinkie Pie, Applejack, Rarity, Fluttershy)
Language/Version
Singers
Title
Albanian
English version
???
Arabic
Wallla' Asamah, Nariman Niyazi, Angy Al-Gitem, ???, ???, Amal Abdallah
أفي انكسايئ أشتيا / afi ankasayi 'ashtia
Armenian (Voice-Over)
???
???
Azerbaijani (Voice-Over)
???
???
Bosnian
The Serbian versions, as the series wasn't dubbed in Bosnian until season 3
Zimi kraj je, Kraj je zime
Brazilian Portuguese
Monica Toniolo, Marina Sirabello
Tchau Inverno
Bulgarian (bTV, Voice-Over)
???
???
Bulgarian (Super7, Voice-Over)
???
???
Cantonese (now 香港)
English version
???
Cantonese (ViuTV)
???
Castilian Spanish
Marina Pastor, Julia Jové, Anna Ferran, Mireia Decler, Noelia Gómez, Laura Rojas
Recogemos el Invierno
Chinese Mandarin (China, Taiwan)
English version
??? (subtitles)
Croatian (HRT)
Andrea Baković, Bits of the Serbian Mini dub
Kraj je Zime
Croatian (RTL Kockica)
Dunja Fajdić (Twilight, Rainbow, also sings for Rarity in her and Fluttershy's stanza), Kristina Habuš, Mia Krajcar, Anja Nigović (only the beggining verse), Anabela Barić
Spremaj zimu
Czech
Helena Brabcová, Irena Hrubá, Jana Mařasová, Radka Stupková, Šárka Vondrová
Zima Konči
Danish
In order of appereance: Annevig Schelde Ebbe, Sara Poulsen, Trine Glud, Nicole Salmansen, Pauline V. Nissen, Katrine Iven Strømsted
Vinteren Slutter
Dutch
In order of appereance: Iris van Kempen, Melise de Winter, Meghna Kumar, Amaryllis Uitterlinden, Anneke Beukman, Lizemijn Libgott
Winter Schoonmaak
Estonian
???
???
European Portuguese
Sandra de Castro, Ana Vieira, Carla Mendes, Cristina Basílio
O Inverno
Faroese
???
???
Finnish
In order of appereance: Katja Sirkiä, Saara Lehtonen, Annituuli Kasurinen, Taru Tikkanen, Henni-Liisa Stam, Susa Saukko
Talven Jälkeen
French
Melanie Dambermont, Nathalie Hugo, Nathalie Stas, Nathalie Delattre, Nancy Philippot, Elisabeth Guinand
L'hiver s'enfuit
Georgian
???
??
German
Tina Hansch, Magdalena Turba, Lydia Morgenstern, Rubina Kuraoka, Saskia Tanfal, Julia Stoepel
Winter-ade-Tag
Greek
Sofia Kapsampeli / Σοφία Καψαμπελη, Aigli Kontonikou / Αίγλη Κοντονίκου, Tania Paleologou / Τάνια Παλαιολόγου, Maria Zervou / Μαρία Ζερβού, Ria Apergi / Ρία Απέργη
O cheimónas févgei tóra
Hebrew
Lauren Savir / לורן סביר, May Jacobson / מאי יעקובסון, Talya Barkay / טליה ברקאי, Einat Azulay / עינת אזולאי
סוף היא חורף / Sof ha Horef
Hindi
???
???
Hungarian
Krisztina Nádorfi, Borbála Csuha
Vége van a hosszú télnek
Indonesian
Nabila Najwa, ???, ???, ???, ???
???
Italian
Renata Bertolas (Applejack, Rainbow), Vera Calacoci (Pinkie), Greta Bortolotti (Rarity), Emanuela Pacotto (Twilight), ??? (Fluttershy)
Basta Inverno
Japanese
English version
Winter Clear Up (Translation of the subtitles)
Khmer
???
Korean
English version
???
Latin Spanish
Analiz Sánchez, Melissa Gedeón "Meli G", Claudia Motta, Elsa Covián, Carla Castañeda, Maggie Vera
Envolviendo el Invierno
Latvian (Voice- Over)
???
???
Lithuanian (Voice-Over)
???
???
Macedonian
???
???
Malay
???
???
Mongolian (Voice-Over)
???
???
Norwegian
Anniken Marie Nielsen, Hanne Dancke Arnesen, Siri Nilsen, Tiril Heide-Steen, Dina Padoin
Pakk Bort Vintern
Persian (DVD)
???
???
Persian (Gem Junior)
???
???
Persian (Persian Toon)
???
???
Polish
Agnieszka Mrozińska, Julia Kołakowska - Bytner, Monika Pikuła, Monika Kwiatkowska, Magdalena Krylik, Małgorzata Szymańska
Mija Zima
Romanian
???
Impachetaria Iernii
Russian
???
Наступил конец холодам / Nastupil Kaniets Khaladam
Russian (Kidzone TV, Voice-Over)
???
???
Serbian (Mini TV)
Milena Moravčević (Twilight, Pinkie), Jelena Petrović (Rainbow Dash, Fluttershy), Ana Milenković (Rarity, Applejack)
Kraj je Zime
Serbian (Minimax)
Mariana Aranđelović, Jelena Jovičić (Pinkie, Fluttershy), Aleksandra Širkić (Rainbow, Applejack), Snežana Nešković
Zimi Kraj Je
Slovak
Andrea Karnasová, ???, Bibiana Ondrejková, Lívia Bielovič, Kristína Turjanová, Gabriela Škrabáková-Kreutz
Dhlá Zima Už sa Konči
Slovene (Minimax)
Renata Gračnar
Slovene (POP TV)
Katarina Bordner, Tanja Ravljen
Zbogom Zima
Swedish
Anneli Heed, Amanda Renberg, Emma Lewin-Sundberg, My Bodell, Lina Hedlung, Lizette Pålsson
Ut med Vintern
Tagalog
???
???
Tamil
???
???
Thai (Boomerang)
???
???
Thai (MCOT Family)
???
Thai (Tiga)
???
Turkish
Begüm Günceler, ???
Kiş Bitiyor
Ukrainian
Yuliya Perenchuk, Natalya Roman'ko-Kysel'ova
зимові прівараня / Zymovi Pryvaranya
Urdu
???
???
Vietnamese (SAOTV)
???
???
Vietnamese (Voice-Over)
???
???
In the Ukrainian and Vietnamese (SAOTV) dubs the lyrics of the song are spoken.
Community content is available under
CC-BY-SA
unless otherwise noted.