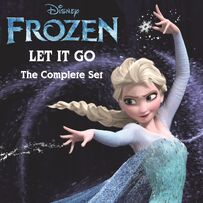 Let it go is a song from Disney's Frozen. It's sung by Elsa after her secret became known and she escaped from Arendelle, accidentally creating eternal winter. During the song she decides to live freely and forget her past. This song won many awards, including an Oscar. It's very popular and was translated into a lot of languages, both in full movie dubs, both by DCVI and independent local studios, (here ""movie&soundtrack versions") and fandubs (here "other versions"). The Pop version is the end credits version.
Movie & Soundtrack versions
[
edit
|
edit source
]
Movie version
Language/Version
Singer(s)
Title
Abaza
Non/Disney Multilanguage Kingdom
???
Abruzzese
Claudia Bronte
Da cagnà
Acehnese
Hatsune Miku VOCALOID2
Jak Peulheuh
Afrikaans
???
???
Akitan Japanese
Tsuchi-@Tabi
どごもままで
Algerian Arabic
languagessprachenaus super
???
Algerian Arabic (Parody)
Abdelghani DL ORIGI AL
American Spanish
Madi Lee
Libre soy
Anatolian
Non/Disney Multilanguage Kingdom
Ama-gah
Antillean Creole
DantaKry
libere
Ancient Greek (not full)
dimitra pliatsika
??? / Lismono
Ancient Greek
Lexi Clare

Luke Ellery

George Everts

Μεθες το / Methes to
Andalusian Spanish
Wonder Covers
Sueltalo
Andorran Catalan
LeMadame IceRose
Lliure soc
Angolan Portuguese
???
Acabou, Livre Estou
Antegrian
Koshijapan 53
???
Aragonese
EliseBellatrix
Suelta-lo
Aranese
Marina Cuito
Voi Volar
Argentinian Spanish
Lucia Andrada Doblajista
Libre soy
Armenian
Լիլիթ / Lilit |  Lilit Hovhannisyan
Էլզայի Երգը/Elzayi Yergy
Artztokan
Koshijapan 53
???
Athlin
Athlin - Conlang | Kevin
Vele Ir alth
Australian English
juliaandbindi duo
Let it go
Austrian German
Paperblossom
Lass jetzt los , Lass jetzt los
Balearic Catalan
Jubit Colera
Fes-ho ja , Perque puc
Baltorian
Evann Gumgum FR
???
Basque
Noelia Julian
Askatu
Basque
Sara Zendoia
Hor doa Aske
Beki
Jayson Kiong
Kembot na
Belarusian
Аляксандра Радзевіч / Aleksandra Radevich
Не трымай / Nie trymaj
Belarusian
Карина Анчак / Karina Ančak
Будзе так! / Budze tak!
Bengali
JuliBom
ছেড়ে দেওয়া / Chere Dao
Bikol Central
Jeminie Medalla
Nasi'no
Bikol
Esmene Bongais Navarro
Bisaya
Roy Tabasa
???
Bohemian Czech
Michaela
Nech to byt
Boscha
Domburt's friend
???
Bosnian (not full)
Selmah Kapidžić
Pusti sve , Pusti sve
Bosnian
OhMyKurwa!
Pusti sve , Napusti sve
Bosnian
Koshi Japn
Pusti sve , Napusti sve
Bourbonnais Creole
Les Chipeks
Mi lé lib
Brazilian Portuguese
PrincessHalliwell
Livre estou
British Bengali
Juey
Chere dao
British English
Koshi Japn
Let it go
Burmese / Myanmar
Sel Sel
??? / Loba oou , Lob ja oou
Canadian French not full
Bye Bye
Ecrasee, Humiliee
Canarian Spanish
Aroha Sanchez
Sueltalo
Castilian Spanish
MacarenaClassical Singer
Es mi Don
Classical Latin
01ivette
Libera
Cebuano
Reycel Punay
Sundon Ko
Central American Spanish
???
Libre soy
Changsha Mandarin
Sola空空如也
???
Chichewa
???
Ufulu
Chichewa
???
???
Chichinian
Evann Gumgum FR
???
Chilean Spanish
Alexandra
Libre Soy
Chongqing
???
???
Chukchi
ElsaQueenOfTheArendele
???
Chuukese
Andrea in Chuuk
???
Classical Chinese
许晓云 / Xǔ Xiǎo-Yún
我如风、任去留 / Wǒ rú fēng, rèn qù liú
Classical Japanese
???
???
Coastal Atlantean
Avlönskt
Es ar vech
Сocos Malay
Cassidy La Creme
Bebaskan
Colombian Spanish
Tatta
Libre Soy
Corsican
Amanda Carvalho
???
Costa Rican Spanish
Maria
Libre soy
Crimean Tatar
ElsaQueeneOfTheArendele
Және лимфа
Darian Malay
Koshijapan 53
???
Dragonese
Shareenear
Arketã
Dutch
ElkeChan
Laat Het Los
Darian Malay
Koshijapan 53
???
Egyptian Arabic
رينيه فوزى / Rene Fawzy
كفاية / Kefaya
English accents
L1SAMOORE
Let it go
Esperanto
jhusteno
Lasu ĝin
Esperanto
miaŭaslano
Liberigu
Esperanto
miaŭaslano
Liberu, Libero
Eu. Vahaolian
The German Summer Queen / Julieanne Renken
???
Everglotese
???
Läd es gör
Extremaduran
EliseBellatrix
Ya pasó
Faroese
i love german summer queen
???
Finnish
Thneeddelle
Näkyköön
Fiorentu-Riograndais
???
И пуштьей свё
Flemish
MissessAriane
'k Laat her los, eindelijk los
Florian
Shareenear
Herranal, Morranal
French
Stellatsu
Je suis libre
French
disney portuguêsfrançais
Lâcher le
Frisian
Non/Disney Multilanguage Kingdom
Lit it gean
Fukushima Japanese
さとうはなこ
ありのまんまで
Fuluyst
Evann Gumgum FR
Ranmanroi, hutaadla
Galician
Sirene Ko
Déixao ir
Galician-Asturian
Yuka Lockhart
Xa pasou, libre son
Galician-Portuguese
???
???
Georgian
???
???
Georgian
ElsaQueenOfTheArendele
???
Georgian
Sharenear
???
German English
Imajulyer
Let it go
Germish
Evann Gumgum FR
Leit it gö
Gonolian
Evann Gumgum FR
???
Greenlandic (not full)
Anna Elsa J.
The LIG part not dubbed
Guadeloupeen Creole
nicolaskamu
Leberee , Delevree
Gunma Japanese
Yumea
???
Guzarete
???
???
Hakata Japanese
NoiseTZK
???
Hawaiian
Mālia Cardenas
Ho'onoa
Hindi Full Fandub
arctichare1/arctichare2 | Varoon Indalkar
जाने दो / Janne Do
Hill Mari (not full)
KoshiJapan 53
Кирикали , Эли / Kirikali , Ali
Hiligaynon
Kennly Miyagi
Magbuya
Hindi
प्रिया वेद यूला / Priya Vedula
जाने दो / Janne Do
Hinvhala
German Moana
Villa ga
Hmong
Shirley Yang
Tso Kiag Mus
Hmong White Mien
Yayao Yuying
Tso Kiag Mus
Hooro
Evann Gumgum FR
???
Hokkien
Hong An Ni
Ho i khi
Ido
miaŭaslano
Liberes'
Igbo
Non/Disney Multilanguage Kingdom
Hapu ya akaga
Ilocano
Diosare Alaska
Bay amun!
Impor
Koshijapan 53
???
Indonesian
Nadya Almira Puteri
Biarkan
Intikop
Evann Gumgum FR
Lifaslan
Iraqi Arabic
World Stars
???
Irish
Ownleme
Lig é Dul
Ishigaki
miifaiyu
???
Ishikawa Japanese
Ishikawa-ken
???
Islamic (Indonesian&Arabic)
AMAR
Ramadan
Israeli accent/Israeli English
Richard Paz
Let it go
Italian
TremoTina OUAT/RUMBELLE
All'alba risorgerò
Italian
Luigi Castaldo
Libero
Italian
Claudia Bronte
Libertà
Italian
Elelovett
Sorgerò
Italian
Dub4Fun
Una nuova stella
Iwatean Japanese
???
???
Izumo Japanese
???
???
Javanese
TY
Bebasno
Jessycaish
OneLastMug__
Deli Rav's
Kabardian
ElsaQueeneOfTheArendele
Акмай ды / Akmaiy dii
Kagoshima Japanese
???
???
Kapampangan
Jubid Cordero
Keta Ka
Kannada
ApeniGirl
Adh Bidu
Karaychian
Koshi Japan 53
Opustiti u Opustia
Karitashi
Evann Gumgum FR
???
Kazakh
Маіра Аблай / Maira Ablay
Жіберу ұмытып / Jiberw umıtıp
Kazakh
Жаниэлла / Janïélla
Жіберші! Ұмытшы! / Jiberşi! Umıtşı!
Kazakh
???
???
Kelantanese
alif hilmi
Bebahkan
Kelantanese (not full)
Skydra Rezarex
Bebaske
Kereliyanese
Koshi Japn
Sorobeon
Khari Boli (Not Full)
Desi Songstress
Jane do
Khmer
Phadora Sokha
???
Kolechian
Koshi Japan 53
???
Kikongo
jaja junoir
???
Kinaray-a
Alvin AlcOnga
Buy i Ron
Klingon (not full)
Jen Usellis-Mackay
???
Konkani
Kavita Baliga
Sodi
Koshu Japanese
???
???
Kumamoto Japanese
???
???
Kuwaiti Arabic
Hadi_92
Khal yethelfon
Kyrgyz (Gibberish)
???
???
Laefêvëši
Avlönskt
Vállara, Féittáhas
Lao
Mainn Channrong
???
Lao (not full)
Pupay | ปูเป้ / Pū pê
???
Latin
VoxSolita
Id Agat
Latin
TranslatorCarminum
Līberē
Latin
Teresa Grappe
Līberō
Latin
RapunzeLPrincesa 784
Liberum
Latin
Sarah Whipple
Relinquam me' curas
Lingala
jaja junior
???
Lingua Franca Nova
Lúdovico Góngora
Libri me
Leonese
???
Sueltalo
Lebanese Arabic
The German Summer Queen
... / Kani zan , Wenni zan
Luxembourgish
Eder Morales
Loss Et Sinn
Macedonian
Nathalia Macedo
Слобода / Sloboda
Macedonian
111
Остави, пушти ги / Ostavi, pušti gi
Macedonian
???
???
Madagascaran Creole
Non/Disney Multilanguage Kingdom
Libere, delivre
Madurese
Subhan Rosyid
Let Dinah
Malagasy
Tomás A. Franda
???
Malagasy
Ny Aina Merryl
Findreto aho, Ity aho
Malayalam
Sivasankar S.
അറിവും / Adviru
Malaysian Mandarin
Shila
Sui ta ba
Maltese
Flake122
???
Maori
Soundgirl lanz
Tukuna
Maltese
???
Liberta
Maltese not full
Disney Malta
Halihe-mur, Haliha-tmur
Marathi
Isha Salgaonkar
??? / Dzaundï
Mauritian Creole
Nivesh Pargass
Desale
Mauritian Hindi
Nivesh Pargass
Jane do
Medanese Hokkien (not full)
•nadia
Pang i cau, Ho i khi
Merthucian
Amanda Carvalho
Sevī nī cat
Mikawan Japanese
MIEKO LIN
???
Minion
JimmyMax
???
Mirandese
Amanda Carvalho
Libardade
Miyara-Yaeyaman
???
???
Mizo
zoremsanga | Hrang Vala
Lan tir Rawh
Moldovan
Meowoofie
Liberâ-s
Moldovan
Claudia Boroșăscu
Nu-mi mai pasâ di iy sau di tryecut
Moldavian Romanian / Bessarabian
MilCanciones
Liber sant
Mongolian
Zizi Zoloo
Let it go
Montenegrin
ElsaQueeneOfTheArendele
Пусти то / Pusti to
Moravian Czech
TextJeNas
Nech to byt
Mozambican Portuguese
???
???
Myanmar / Burmese
Sally Mohn | Yamin Ohmar
Let it go
Nahuatl
???
Majkajto na
Neapolitan
Francesco Petrucci
Lasso I'
Nepali
Atul Ojha
??? / Swatantra, chu aaja
Nicaraguan Spanish
KoshiJapan 53
Libre Soy
Nintendon
Wario Toad 32 Music
Las hot ge
Northeast Mandarin
通彩 / Tōng cǎi
???
Northern Sami
???
Luoitte Ain
Northern Sotho
???
???
Norwegian Bokmål
Hikeni
Slipp deg løs, slipp alt løs
Norwegian Nynorsk
Dragonlover91 - Norwegian fandubber
Slepp deg laus, slepp alt laus
Noto Japanese
???
???
Obristan
KoshiJapan 53
???
Occitan
Lúdovico Góngora
Liure Soi
Occitan (not full)
disney portuguêsfrançais
Vòl volar
Okinawan
花城舞
やるぐとうぬし
Old English
Steve the vagabond and silly linguist
Læt hit gán
Old French
Lúdovico Góngora
Liberata, Deliberata
Old Japanese
???
???
Old Kazakh
???
???
Old Persian
darkfantasy brun
???
Old Serbian
KoshiJapan 53
LIG part its not sung
Oltenian Romanian
Ramona
Santamplat
Quebec French
Naёlle Dattebayo
Relache-le
Quenya
Douglas Pereira Nazário
Á senë
Panamian Spanish
Ruth Sofía
Libre Soy
Papiamento
Non/Disney Multilanguage Kingdom
Dam
Parseltongue
The German Summer Queen / Julieanne Renken
Uwee-ia
Pavlodaran Kazakh
meru dream
???
Pensecian
Evann Gumgum FR
Zdatis
Perciscan
Lúdovico Góngora
Libre eso
Peruvian Spanish
[U.S.A] / Usagui Tsukino
Libre Soy
Portuguese
Melissa Ferreira
Já passou
Portunhol
Princess Pea
Ja passou
Provençal (not full)
Solène K
á la perfin, sieu aqui
Qetchike
Youcam
???
Réunion Créole
Silane
Délivrée
Republian
KoshiJapan 53
???
Ruscosic
Domburt's friend
???
Russian English
Non/Disney Multilanguage Kingdom
Let it go
Surzhik
Евгения Лисова / Evgeniia Lisova
Ну и пусть / Nu i pust'
Trasianka
Евгения Рогожіна / Evgeniia Rogozhina
Отпустить / Otpustit'
Saga Japanese
HumanCube
???
Sakhay
Evann Gumgum FR
???
Samoan
ElsaQueeneOfTheArendele
Alewey
Sardinian
Dub4Fun
Lugi ca ara a brillai
Scots (Scottish)
Evan Dixon
Stuff 'em aw
Sesotho
Non/Disney Multilanguage Kingdom
???
Shaanxi 2
???
???
Shandong Mandarin
Youku
???
Shanghainese
纳鲁 / Naru
让他去 / ???
Shimokitan Japanese
Fransc
???
Serbo-Croatian
Milena My vision
Пусти то / Pusti to
Sesotho
???
???
Sicilian
hui-hui
???
Silbo Gomero/Silbo Gomera
A NATIVE
Me voy, iMucho frio
Silesian
Amanda Carvalho
Wolnosc
Sichuan Mandarin
???
???
Simlish
Rachybop
Soun it bra
Singaporean Malay
Mahura 97 | Yuko Amalina
Bebaskan, Lepaskan
Singlish (not full)
Skydra Rezarex
Let go (lah)
Sinhala
Megha Malhari
Dilisei himakandu
Southern American English
???
let it go
Southern Zhejiang
yip Guzzuk
???
Sumerian
Shareenear
ama gi
Stilian Davolha
Julieanne Renken
???
Sundanese
Nathaniel Angelius
Bebasken
Sundanese
gracethegarlic
Pék Waé
Surinamese Sranian
Rutgerlvdiepstra
???
Swahili
Lucia Regazzoli
Tukufu Mwangani
Swedish (not full)
PrincessJellyPie
Låt det gro
Swedish
Swedish Fandubs and Fan Translations
Låt det Ske
Swedish
Animayah
Låt det ske, låt dom se
Swedish
HikariMichi42
Slå dig loss, slå dig fri
Swedish
Ranee MacIntosh
Slå dig loss, slå dig fri
Swiss German
Danielle Bregoli and Klangtastisch
Ich los los
Tagawa Japanese
???
???
Tahitian French
Roger Tetuanui
Liberre Delivré
Tajik
Non/Disney Multilanguage Kingdom
Ozodan
Tayponese
Evann Gumgum FR
???
Tokunoshima Japanese
なつナツ
???
Tamil
கந்த்ஹ கநெஸ்ஹ் / Gantha Ganesh
விடு போ / Vitu po
Tchetuanian
Evann Gumgum FR
???
Telugu
Elsa's Ice World
???
Tianjin
???
???
Tibetian
Vanessa Kubota
???/ Narvarşa , Narvarşa
Tosa Japanese
???
???
Traditional Japanese
???
???
Tsakonian Greek
Μαργαρίτα / Margaríta
Είμαι γω / Ime go
Tshiluba
jaja junior
...
Tsugaru Japanese
タマ伸也
???
Turkmen
gomishan city gg
Ghorqma
Tupi-Guarani/Nheengatu
???
???
Urdu
Ray
جینی دہ / Jani Do
Uyghur
Barna
Let it go
Uzbek
Emi Amemiya
O'zligimcha Qolay
Uzbek
???
Liberta/???
Vahaolian
The German Summer Queen / Julieanne Renken
Lad det skå
Valencian
Clara Laguarda
Lliure Sóc
Venezuelan Spanish
María José Pereira
Libre Soy
Wahanian
Evann Gumgum FR
???
Waray
???
Taway nyo
Welsh
Rebekah West
Gad Hi Fynd
Welsh
Jodi Bird
Torri'n Rhydd
Whenzhounese
Qin C
???
Wenghese
让他走 / reng2 te4 zoi2
???
Wuhanese
Ahke
???
Xiantao
???
???
Xinjiang Mandarin
???
???
Xylien
Evann Gumgum FR
???
Yamagata Japanese
しろいうんち
???
Xynder
Avlönskt
Lasse Los
Yakut
Александра Татаринова / Tatarinova Aleksandra
Миигин ыыт, тутума / Miigin iit , tutuma
Yewa
???
???
Yiddish
טעמע שעכטער / Temma Schaechter
לאָז אַרויס / Loz Aroys
Yoruba
???
???
Yoruba
Non/Disney Multilanguage Kingdom
Yoruba not full
Doweship Oluwole
Iresi
Yurok (not full)
Koshi Japn
Weykook
Zulu
ElsaBG The Snow Queen
Khulule
Zulu not full
???
???
Chickewa
LeahOzen2
Lukaba (unknown lyrics)
Kyrgyz
Frozen Music
Koyo ber, ani sen
Kyrgyz
Kanym A.
Koyo ber, unut
Georgian
ThousandOctaves
დადგა ჩემი დრო
EU Portuguese
Carina Leitão
Já passou
Language/Version
Singer(s)
Title
Greek
dimitra pliatsika
Και ξεχνώ / Kai xechnó̱
Hungarian
Bilonka Rebeka
Legyen hó!
Neapolitan
Francesco Petrucci

Pezzotta | Nadia

Lasso I'
Sardinian
Dub4Fun
Lugi ca ara a brillai
Serbian
DetektivConan1994
Sad je kraj
Swedish
jungla3
Slå dig fri
EU Portuguese
Carina Leitão
Já passou
Community content is available under
CC-BY-SA
unless otherwise noted.