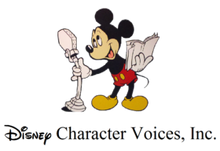 Disney Character Voices International Inc. is a corporate division of The Walt Disney Company with primary responsibility for the provision of translation and dubbing services for all Disney productions including those by Walt Disney Studios Motion Pictures, Disney Music Group and Disney-ABC International Television.
List of languages by DCVI
Disney's productions officially appear in the following global languages after the original English language:
Arabic
Bulgarian
Catalan
Chinese (Cantonese-Hong Kong)
Chinese (Mandarin-Taiwan)
Chinese (Mandarin-Mainland China)
Croatian
Czech
Danish
Dutch
Estonian
Finnish
Flemish (Belgian Dutch)
French
French (Canadian)
German
Greek
Hebrew
Hindi
Hungarian
Icelandic
Italian
Japanese
Kazakh
Korean
Latvian
Lithuanian
Norwegian
Polish
Portuguese (Portugal)
Portuguese (Brazilian)
Romanian
Russian
Serbian
Slovak
Slovene
Spanish (Castilian)
Spanish (Latin American)
Swedish
Thai
Turkish
Ukrainian
Vietnamese (Movie only)
Languages in which there are one or several Disney animated movies:
Argentinian Spanish (Pinocchio, Fantasia, Dumbo, Bambi, The Incredibles, Chicken Little, Cars, Ratatouille)
Filipino
German (Austrian) (The Little Mermaid, Chicken Little, Up)
Hawaiian (Moana)
Malay (Tarzan, Planes, Frozen)
​Māori (Moana)
Northern Samí (Frozen 2)
Tahitian (Moana)
Zulu (The Lion King)
Languages in which various Disney channels are broadcast (without dubbing for cinema or home entertainment):
Bengali (India)
Indonesian (except for WALL-E)
Malay
Marathi (India)
Tamil (India)
Telugu (India)
List of banned actors
Mexican voice actor Carlos Segundo (who voiced Sheriff Woody in Toy Story and Goofy) stopped working for Disney in 2010 for economical reasons.
Brazilian voice actor Peterson Adriano was banned from Disney in 2006 after getting into a dispute with the Delart studio. Adriano's ban from Delart prompted his sister Fernanda Crispim, and her two children Pedro and Vitória, to stop working at Delart, though they still work normally for Disney.
Brazilian voice actor Garcia Júnior stepped down from his position as DCVI's Latin American casting director in 2011.
French voice actress

Lucie Dolène

was banned from Disney in 1997 after filing a lawsuit over her voice in The Jungle Book and Beauty and the Beast.
Egyptian voice actor

Wael Mansour

(Arabic voice of Donald Duck) was banned from Disney in 2014 because of an anti-Semitic tweet published on his account on Twitter.